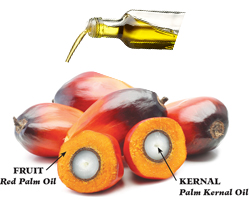 The palm oil is pressed from outer part of the pulp of the palm fruit. And the palm kernel oil is in the palm kernel. And they are all different with the coconut oil, the coconut oil is derived from the kernel of the coconut. And it is semi-solid at room condition.
Palm fruit oil is a semi-solid fat rich in palmitic acid, and also rich in carotenoids, phytosterols, and vitamin E.
Palm kernel oil, from the pit, is high in lauric and myristic acids.
The oil content of the palm is more than 50%. It is abounded in the Indonesia, Malaysia, western and middle part of Africa, Northern part of South America and Central America.
The palm kernel oil includes few highly saturated vegetable fats. It's high oxidation stability, and will still keep high quality in the cooking high temperature, lower cost property makes the oil the first choice for frying and edible oil. And also the palm oil in with high luric acid, it will raise the blood cholesterol level.
Palm Kernel Oil Extraction Method

Full Press Extraction
: palm kernel pre-treatment - extracting by screw oil press - oil clarification
Solvent Extraction
: kernel pre-treatment - oil extraction - solvent recovery from the oil and meal