EFB / palm fiber & silk are special, difficult for process but also first-class raw material in pelletization. The high content of water and oil, strong tenacity and hardness all requires specialized design of proposal, even exclusive main equipment to produce pellets from it. As to the most common material in Southeast Asia, especially Malaysia from planting, we have discussed with many clients about the processing of it and tried various equipments for pre-treatment such as drying and grinding.
| | | |
| --- | --- | --- |
| | | |
| EFB | Palm Silk | EFB Pellets |

After improvement of grinding machine, and the pellet mill we have commissioned pellet plants in Indonesia for EFB material. By trying of adjustment of motor, main parts and even the structure to adapt to such special material, now we could propose pellet process flow chart with EFB / fiber palm & silk material as chipping, grinding, drying and pelletizing to complete pelletization.
we recommend two processing solutions depends on the different raw material.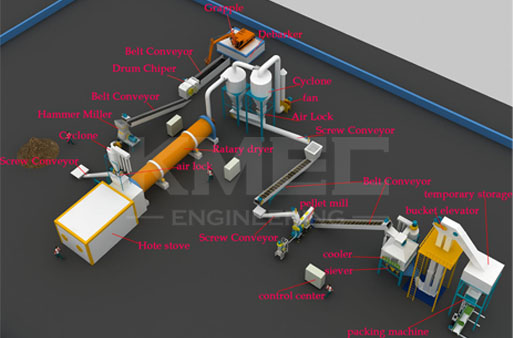 Video of EFB Pellet Mill

KMPM Series Ring Die Pellet Mill for EFB Pellets
1.It utilizes aerodynamics technology to reduce the temperature of the pelletizing chamber to around 90°C, which can operate continuously.
2.Timing feeder can control the feed to reduce the blockage.
3.The body is more durable because it is comprised of ductile iron.
4.Capacity increased by adding another force feeder made from stainless steel. This increases the feed spread area.
5.It uses the improved U type screw conveyor. Its adjustable feeding speeds allow for continuous feeding without blockage.
6.It is driven by high precision gears.