Straw is valuable material for pellet production due to original low cost waste made by agricultural planting. The same as other wastes produced in different business, the characteristics of straw includes abundant storage, high caloric for burning, and stable supply in all seasons. At present lots of clients start to use straw for pellet production and the finished pellets are available for both of residential and industrial use.
| | |
| --- | --- |
| | |
| Straw | Straw Pellets |

For 1TPH pellets plant with straw material, we place one hammer mill after drying process, and one set of KMPM52 model ring die pellet mill should be up to production requirement. The dust filter is optional equipment for client who has strict environmental policy. The complete straw pellets line ends with cooler and automatic bagging machine to receive finished pellets in 15KG bags (conventional standard).
1TPH Pellets Plant with Straw Material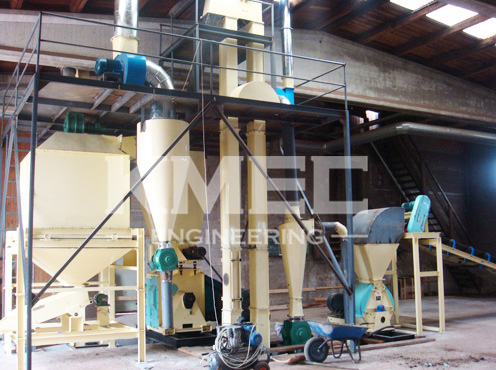 1TPH Straw Pellet Plant Process Flowchart