Wood pellets are a form of wood fuel, they are generally made up of compacted sawdust or other wastes such as corn stalk, peanut shell, bagasse etc. We specialized in manufacturing wood pellet plant, and the whole wood pellet plant process includes pulverizing, drying, pelleting, cooling /sieving /bagging.
Materials for Wood Pellet Plant

Wood Pellet Plant Flow Chart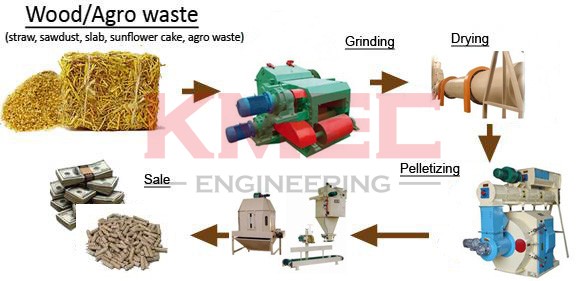 Crushing/pulverizing
In this part, the larger materials will be crushed into smaller powder for producing wood pellets. Diameter of raw materials 3-5 mm is convenient for further processing to get dried and pelletized.
Drying
Technically, best moisture content for pellet manufacture is about 11-15%. Therefore, in this process you should choose a drying machine according to the moisture and capacity of wood powder on your needs.
Pelleting
This step is the significant part of the whole wood pellet plant manufacture. We provide capacity ranges from 1-10T. Professional pellet mill meet the requirements for you, don't hesitate to contact us.
Cooling /sieving /packing


After the pelleting process, you should make the pellets cooling for storage. While, sieving and packing make pellets better to avoid damage.